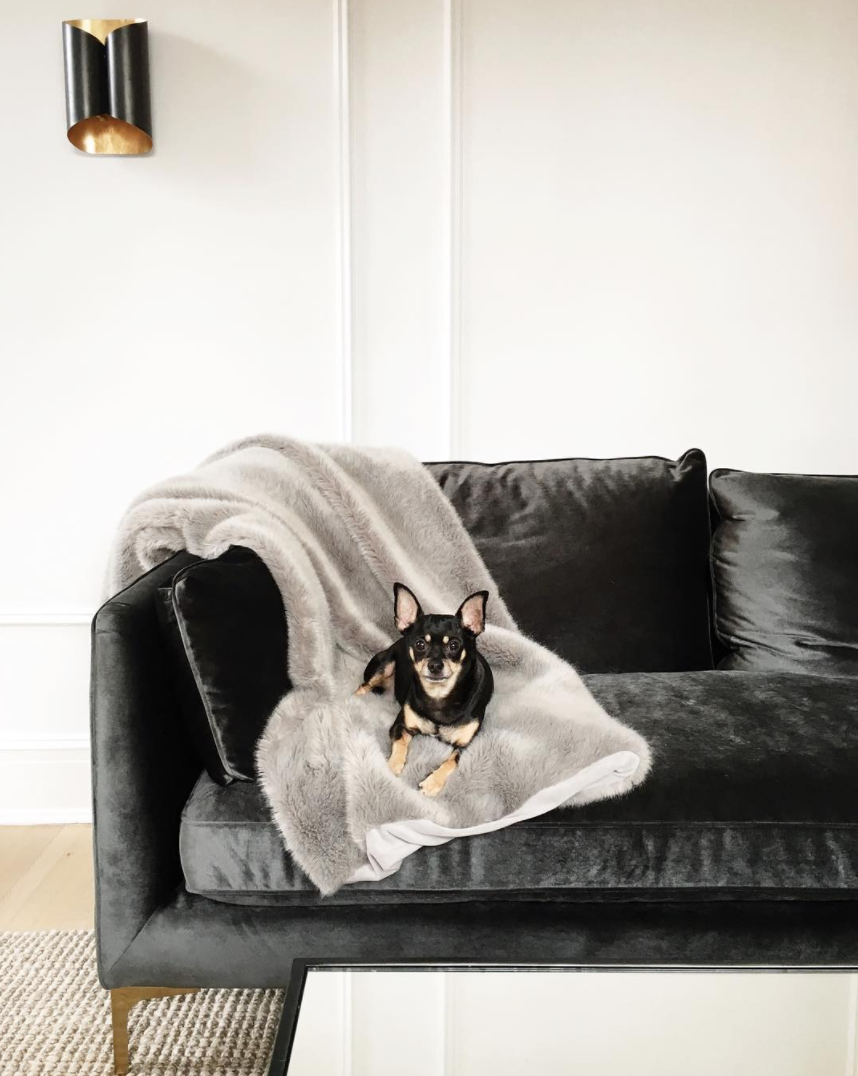 Moving 6 times in 6 years will teach you a thing or two about making a new place feel like home. But living through construction and not having furniture or a kitchen for 2 months is a lesson in patience–especially for someone who usually unpacks within 24 hours. Years ago, I would have completely freaked out about not having everything done right away. This time around, I missed cooking and having a place that feels like home but have been (mostly) going with it. It's almost like I'm breezy.
Decorating with Conor has been really easy. His mom has incredible taste and has redone a almost a dozen homes since Conor was a kid, and his dad is a furniture designer and antiques dealer, so interior design is basically in his blood. Sure, it's involved some compromises, but that's life, right? And if one of us doesn't like something, it's immediately taken off the table and we move on. Except for the coffee table that Conor ordered before we planned on moving in together–the one with the glass top that smudges when you so much as look at it. It's a beautiful piece but the fingerprints drive me crazy.
I hope to to do a better job of documenting the decorating process moving forward since it's been slower than usual, making changes easier to see. And considering the comments on Monday's post, this seems like something most of you want to read out. So I I thought I'd share the progress and plans for our living room which should really start to transform over the next few weeks.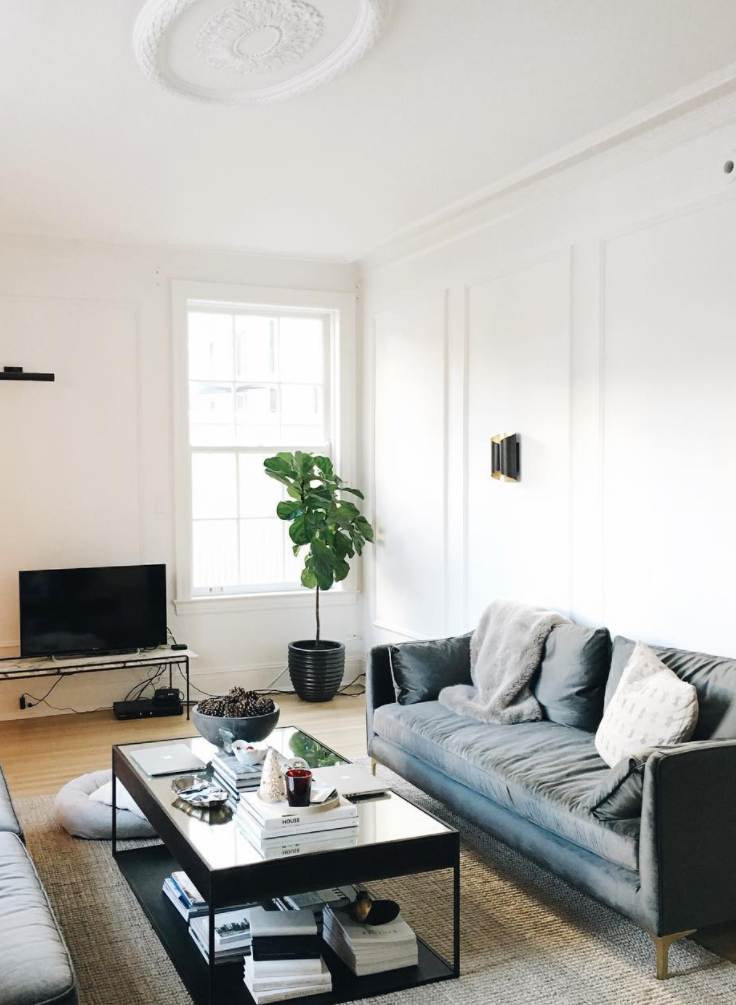 The Sofa(s)
Featuring a sofa from The Everygirl's collaboration with Interior Define was an easy decision. Since I had already featured our Caitlin sofa in white, I talked to the team at ID and we decided it would be best if I featured the sofa in a new color, so Conor and I decided on dark grey. Considering this post and the fact that I was going for something different, grey seemed like the way to go. And the dark contrast made the most sense against the light floors and white walls.
When our new sofa arrived, we put the old one on the other side of the coffee table (temporarily with plans to sell or store it) and after a few days, realized that having two sofas was sort of perfect. So we ordered second Caitlin sofa from Interior Define which should be here late next month.
Armchair
The room still needed an armchair, and we narrowed it down to two that are quite different from one another. The RH Lyon chair and this Rove Concepts Flag Halyard chair. After going back and forth, we ultimately decided on the Halyard since it makes much more of a statement, and it will probably be a cozier reading spot. It should arrive in 2 weeks!
Window Hardware
Most of our hardware is black/bronze, so we tried to do something different and ordered brass hardware for our windows. The guys installed it while we were in California and I just couldn't get on board, so we took it down, returned it, and ordered these curtain rods from Rejuvenation. They should arrive Monday, and I've had sheer linen curtains waiting to go up for over a month. I feel like the curtains are going to transform the room.
A Budget-Friendly Rug
We went with my go-to jute rug, which I got on sale for closer to $300–such a good price for an 8×10 rug. They're not the softest but are much softer than sisal. I think it's pretty comfortable, very durable, and the price can't be beat.
TV Stand
When it came to our TV, we (ok, Conor) were back and forth between not having a TV (nope), wall mounting with nothing underneath (too high), a vintage console (aesthetically what we both wanted but too high), or something low and modern. Neither of us wanted to draw a lot of attention to the television, so we decided on my old media console since it has clean lines that will sort of blend in with the room.
Since I sold my last one, we had to reorder it but used a 15% off coupon that came in the mail, and it should be here late January/early February. The TV is currently on my old coffee table with wires everywhere, so I'm hopeful that this piece will make a pretty big difference, too.
Art
Neither of us wanted a gallery wall, but we've decided on a "grouping" behind the TV–maybe 3-4 pieces, inspired by a really simple, minimalist wall at The Apartment by The Line NYC. We also need a piece above the sofa but haven't found anything (and almost everything isn't in our budget) so we'll take our time until we find the right piece for the right price. We're looking at some Minted art and a few other budget-friendly sites, so I'll post more about those soon!
We're still looking for throw pillows, a side table–ideally wood to bring in a natural element and something that isn't black or white, and some plants I can't kill. I think we'll see a lot of progress over the next few weeks.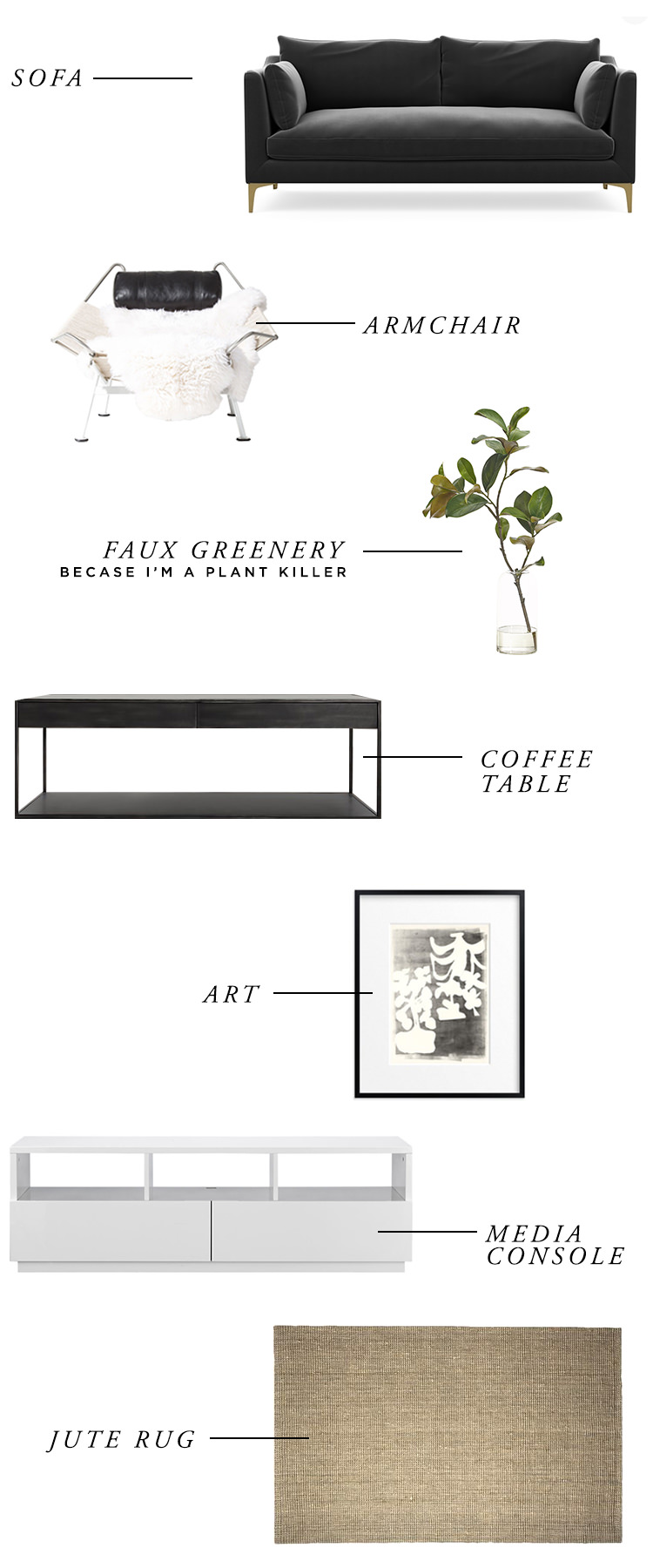 And as a side note, thank you all for the comments, insight, and for sharing a bit more about yourselves on Monday. I honestly thought I'd get maybe 10 comments and not 50+ so really, thank you! My week has been sort of crazy but I plan on really going through everything this weekend.