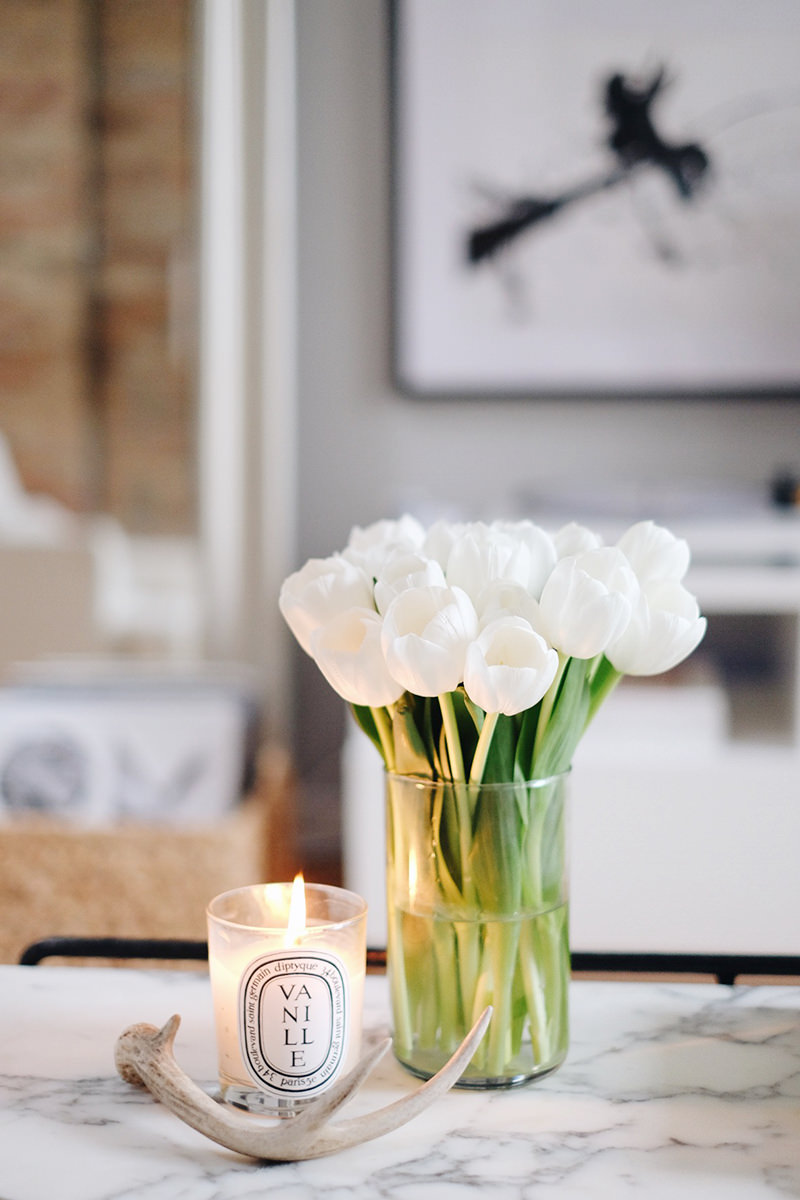 It's Friday and I'm not traveling for two weeks! Excited to have some much-needed time at home to finish my place, eat healthy, and work out regularly now that I'm able to work out again. I never thought I'd be excited about not traveling, probably because I never did much of it. But here I am, thrilled to have some time at home. Didn't see it coming.
We shot a few career profiles at the White House in DC where we didn't meet the president or first lady but did meet these guys! I'll be in Chicago until May 10th, and then it's off to NYC for 2 days, and then a quick trip to Denver the following week. Then I'll have a month at home before heading to Italy with Conor!
It's really cold and gloomy in Chicago, but I'm in styling mode–just organizing, moving a few things around, and adding a little greenery. I'll share some before and after photos and talk more about how the styling process works soon! My place really is mostly done. Just tweaking a few rooms and both starting + finishing my deck so they're all photo-shoot ready.
Conor and I had dinner at my friend Meg's last weekend and I spent time with her sweet and perfect son, Oliver. He's an angel–so sweet and snuggly. Meg and I met randomly on instagram, I asked her if she'd help adapt some recipes for The Everygirl, we met up, and have stayed in touch since. I love when that happens.
The first week of the Flywheel challenge has been awesome so far. I've been going on and off for about a year and never score above 220 which is sort of low and underwhelming (most people are 260-300), and I finally scored in the 260s! Not sure what clicked or why it took a year, but I did it.
Just as I was about to order the shelves I wrote about last week, I found these–they're a bit more budget-friendly and will be perfect for my office.
I ordered this rug for my office! Should arrive just in time along with my new sofa and chair.
Last weekend, I shot a new collection for Monica and Andy which has become one of my go-to shops for baby gifts. There's a lot of grey for neutral fanatics like me, but I even like the color. Such a cute shop!
If you like Sonoma and wine–so if you're a person–you might want to enter one of the coolest giveaways ever on theeverygirl.com!
And on sale right now:
30% off everything at J. Crew
20% off (select styles) at Splendid
30% off lighting at West Elm