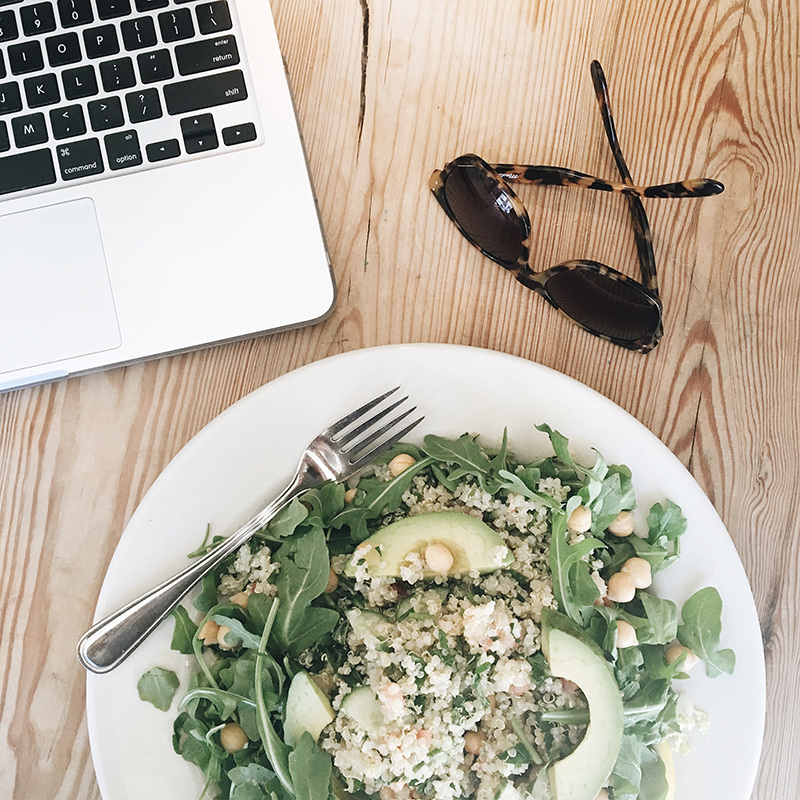 It snowed yesterday (ugh), and while I'm so ready for spring and summer, I used that weather as perfect excuse for a cozy day indoors. It meant blogging, giving my site a little facelift, working on two website installs for design clients, and take-out and Downton with Conor last night. My Sunday is being spent at LPQ–editing photos and working on blog posts with Shaheen.
Here's what else is going on this week.
After dealing with some awful back pain the past couple of weeks, my friend Jessie finally talked me into seeing her chiropractor. 7 hours of appointments (in one week) later, I'm starting to feel a lot better. Not working out for weeks and constant back pain were bringing me down, so I made an effort to do little things to feel better this week.
Thursday, Katie, Jenn, and Jessie came over to my place for a co-working session. I hadn't worked with friends for a while, and it felt so good to catch up with the three of them.
I rarely go out to dinner during the week but ended up going out with Conor both Wednesday and Thursday, and had post-dinner drinks with Meg and her husband on Thurs. Conor and I also met up for lunch on Friday, which is something we never do during the week.
My new bedside table lamp is on sale for $80.
I just ordered this one-piece for summer! Sign up for their email list and get 15% off your first order.
I finally ordered an outdoor sofa and dining chairs, and think I just found an outdoor dining table.
In just 79 days, Conor and I are traveling to Tuscany, Italy for his sister's wedding! We're also visiting Florence (I've never been and have been dying to go for as long as I can remember) and Rome. It was a goal to make it to Paris by my 30th, and just 2 months after my 31st, I traveled to Paris, London, and Rome and didn't leave the country again until earlier this year. In 2016, I'll leave the country as many times as I have in my entire life. First Argentina, then Iceland, and finally, Italy!
I have a giveaway with one of my favorite shops going up tomorrow and will announce the winners of my Halo Top giveaway, too. Happy Sunday!