A Day in the Life (and running The Everygirl)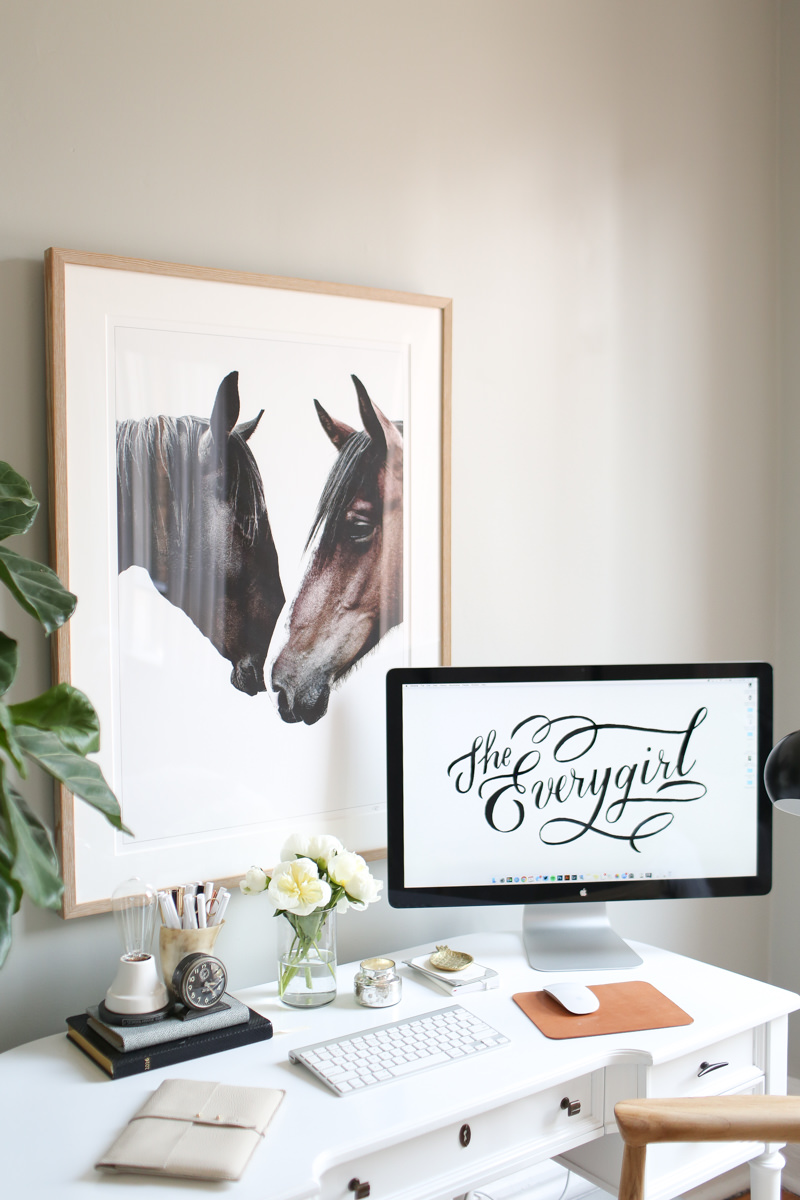 After receiving a few requests for a "day in the life" post, I decided to start writing. And nearly two months later, here I am hitting publish. Maybe it's because it's my life, or maybe it's the fact that my day-to-day really isn't that exciting (because it's not), but I'm a little underwhelmed by this one.
That said, let's start from the beginning.
I fell into graphic design after redesigning my blog in 2007 (I'm a vintage blogger), and within a few months, was a full-time sociology major turned graphic designer. I'll share a post on how I grew my business soon, but this one's all about the day-to-day. My days were spent answering email and designing blogs, so I was at my computer all the time. I'd email files to a client, get their feedback, make any requested edits, and install. Not very exciting.
During this time, I grew my personal blog, moved to Chicago, met my cofounder, and we teamed up to launch a website to help inspire young women like us who were trying to figure their lives out. When we launched The Everygirl back in 2012, we created a lot more content than we do today. We had been blogging for 3 and 5 years respectively which helped our site grow as quickly as it did. And we knew nothing about running a website, so it was very much a "just go with it and see what works" sort of deal.
We couldn't afford to hire anyone or pay ourselves the first year and neither of us had a full-time salary (from The Everygirl) for almost two years. During that time, we still had to pay for things like food and rent, so we had full-time jobs on top of running the site. I'm not sure how we got through the first year, but the excitement kept us going.
One we did go full-time, salaries were barely enough to cover the essentials, so I still took on side projects. I scaled back significantly, taking on maybe 2-3 clients a month vs 5+ a week, and would almost always say yes to photo shoots when they come along.
We hired part-time editors and writers as soon as we could afford to do so. And last October, we hired Allyson, our first full-time hire. Game changer. Up until Allyson joined the team, we handled all of our social media, including our 4-5 daily instagram posts. These days, we rarely post to social and when we do, it's because we're traveling or there's a pretty photo of our homes we want to share.
On to the day-to-day.
I am not a morning person, so I try to get up by 7:30. When it's cold, I'll work on my laptop in bed with coffee and the pup for an hour or so. Some might think a bed (or home) isn't a productive place to work, but I get a lot done and it's something that makes me really happy. And I've been working for myself from home since 2007, so I've got this down.
I spend the rest of the day working at my dining table or desk and am for the most part, glued to whatever surface my computer is on. Most days consist of emails and calls. It's not travel, photo shoots, and fun, pretty things all day long. We chat online in the morning and figure out what needs to get done for the day / what we're working on. And we are, for the most part, in touch all day long. Same goes with Allyson and Ally who aren't based here. Lots of calls, chatting online, and communication via Asana.
I try to work out 4-5 days a week and usually get a mid-morning or lunchtime workout in. That break is huge for me, especially when I'm feeling stressed out.
We work with our editors to figure out their upcoming stories and each week, review (and give notes on) the following week's stories. So writers/section editors produce our content, and we'll occasionally style/shoot something, but focus a lot more on the bigger picture. So most days are spent overseeing upcoming content, figuring out what's next for our brand, working with brands on sponsored content, and coming up with new ideas for the site, story ideas, and our brand. I now work on 1-2 design projects and a few photo shoots (on weekends) each month.
Here's some of what I'm working on right now for The Everygirl
We're hosting events in 3 states with KJ Wines which has required weekly calls and lots of planning (tables, florals, styling, planning the event etc). We're heading to Dallas in a few weeks and NYC in May.
Currently planning a big campaign (4 events in 4 states) with an activewear company. The team is splitting up hosting so we'll each only have to travel once.
We're flying to DC for a shoot at the end of April. All this travel is not typical for us.
Working with brands on sponsored content which means figuring out if the story is a fit, and if so, the best angle, what writer to assign it to, and making sure it's a good fit for our site.
Curating a sale for Joss and Main to coincide with my home tour, which is being shot in April.
And side projects:
Curated a sale for Gilt City
Blog design for a client
Branding / design for a client
Bathroom remodel for a client
A handful of photo shoots
Blog posts
I'm not sure how helpful or interesting this was, but now it's out there. Have any Qs for me? Leave them in the comments below!