Getting Fit for Summer (and life)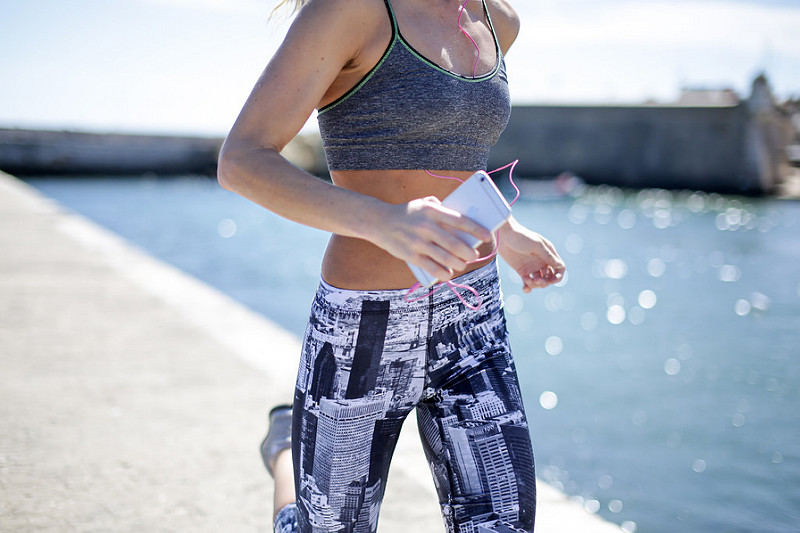 Years ago, I drank the CrossFit/paleo kool-aid and poured it all over the internet, so it's not surprising that even though I quit a year-and-a-half ago, people still ask if I'm doing both. Before I talk about what am doing these days, I want to talk about why I quit. Because those who know I quit assumed that it caused a ton of injuries, but that's just not true.
Bad knees run in my family. The first time I tore cartilage in my knee, I bent down and stood up. So while the second tear may have happened at CrossFit, it could have happened doing anything. Not working out or in my case, bending over to pick something up because I might tear cartilage isn't an option. My first tear is proof enough that anything could have been the cause.
I have scoliosis. It's not terrible, but everything in my back/hips gets very uneven from time to time, and that causes pretty significant back pain. CrossFit did not cause this. It's been an issue that has bothered me since I was in my early teens and it won't ever really go away. Just last week, I returned to being able to work out after needing to take over a month of for–you guessed it–more back pain.
It did not help my type-A, overachiever personality. I'm one of those people who gets very caught-up in things that excite me, and I like achieving goals. Put me in a room with a ton of athletes who are all lifting 30-100+ lbs more than I'll ever be able to lift, and I'm bound to push myself way too hard and feel inadequate. No one ever made me feel that way–it was all in my head. And when work, life, and anxiety have you at a constant 10, walking into a workout that amplifies all the crazy doesn't help.
Quitting wasn't easy, but I reached a point where even though every doctor told me I could continue, the constant PT to try to make myself feel ok wasn't worth it. I still miss it and debate going back just 2x a week, which would be a lot more attainable than the 4-5x a week I was going, but I'm not sure it's what's best (for me), and I don't think it's in my budget if I'm going to continue doing other things, which is the plan.
On getting better
I've always been anti chiropractic because I think they try to rope you into believing you need weekly treatment forever. But I gave it a go and when they tried to sell me on needing 45 treatments this year (and pre-paying the entire year to save 10%) after seeing me 3x, which seemed insane to me. How do you know how often I'll need to come in 5 months from now? I'm not falling for that.
Then a good friend recommended that I see her chiro after seeing what bad shape I was in (couldn't stand up straight) and I love her. She wanted to see me 2x a week the first few weeks (I needed it), and said the goal was to get me in there as little as possible, whether that meant once a month or once every 3 months to make sure everything looked ok.
And working out again
So I'm feeling a lot better and am finally working out again, just in time to dive into Flywheel's Power Into Summer Challenge, which couldn't come at a better time after not working out for a month. You can read more info on their site, but in short, I'll be at Fly 4x a week, and am already on my 3rd workout for the week this week!
I've been working out 4x a week, mixing in Flywheel, Dailey Method, CorePower (although I've recently switched to Yoga Six because their classes are a bit more affordable and I really enjoy it), but I've never done this much Fly and look forward to seeing some results. I have a membership to Flywheel and then buy 20 packs (usually when they're 20% off) which will last about 3 months if I space everything out. The plan is to go 4x a week and to then add in one day of yoga or barre (Dailey Method).
So we'll see how this goes! Ready to fly into summer.
What fitness routines have worked for you? I'd love to hear what you all do to stay in shape.
image via happily grey