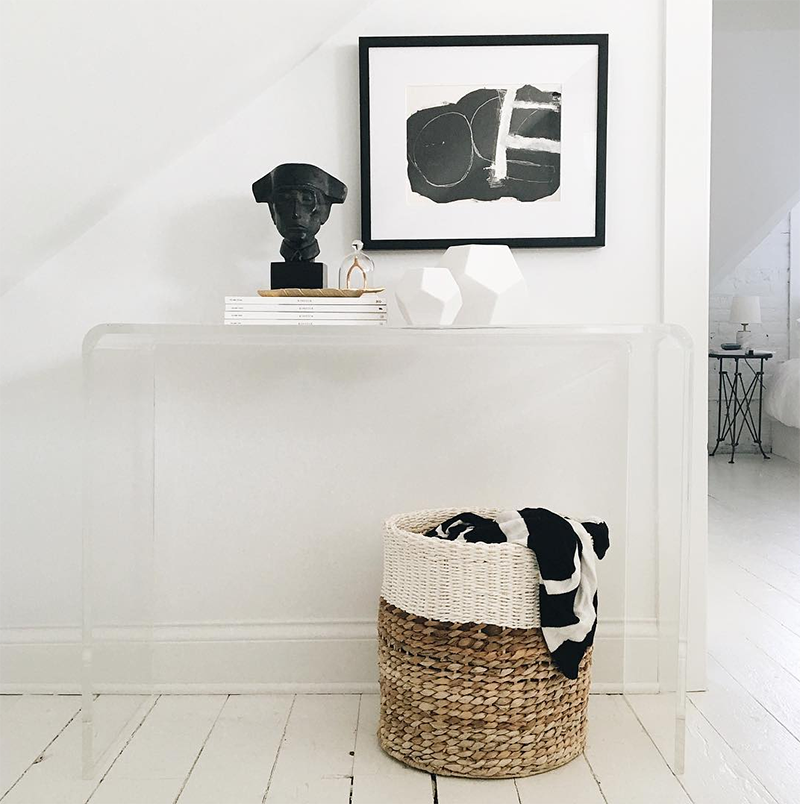 I'm just a few weeks away from shooting my home for The Everygirl, and while my place looks and feels mostly done, there's a big difference between a room that looks complete and one that's ready for a photoshoot. And while this might sound ridiculous to some (if you're one of those people I get it), it's all about the styling, which is very much a thing. I plan on documenting the process as I get my place photoshoot ready, so you'll see what changes I've made over the next few weeks. For the most part, it's all about the details.
My 1st apartment was featured in Rue, 2nd on The Everygirl, 3rd on The Everygirl, 4th was never photographed because I didn't live there long enough to shoot it, and I'm now in my 5th Chicago apartment and 4th home tour since 2012. It's crazy just thinking about it, but I kept bouncing around after tiring of apartments that were either too expensive (1st place), too small (also 1st place), or in a neighborhood I didn't end up loving (4th place). And just to put it out there, I went into my current home knowing I could only live here for about a year, but it was just too good to pass up.
On to the updates.
This little table (above) in my hallway wasn't styled at all. It looked fine but wasn't ready to be photographed, so I added a few small accessories (the head sculpture is vintage, vases are Lulu and Georgia, and art is Artfully Walls) and put a new piece of art up. Fortunately, I'm going for a pretty simple/semi-minimalist look, so I won't need to do too much.
I sold my old coffee table and got this vintage marble one for just over $300 from The Find in Chicago. CB2 has a very similar design under $300.
My media console is one of the first pieces I bought when I moved to Chicago. I actually loved how this area looked, but moved the horses into my office and put my record player on top of the TV stand. I'll add a few more books to the console and…done.
My MegMade desk has been sort of a mess for months, so I finally organized the drawers and desktop. Just need some new office shelves and this space will be ready to go. Knobs are from anthro. They're not made very well but were pretty budget-friendly, so I'd recommend them.
Keeping my Urban Outfitters bedside tables (they're less than $90 each) very simple. Lamp is on sale for $95.
Ikea clothing rack (only $10) and copper hangers were exactly what this space needed. I'll hang my hats above the bench (which was at the end of my bed in my last two homes) and this area will be finished, too.
I'll probably have my linen sheets pressed, pick up a few flower arrangements, move some accessories around, and there's always a chance my staircase will get a new mini gallery wall–then I'm good to go. My current sofa is a prototype from our first round of designs, and I've been waiting for our new design to come out before placing an order. The new Caitlin sofa from our collaboration with Interior Define should arrive next week along with a Rose chair and new office rug.
There's still time to add a few small pieces of decor, so I'd love any recommendations for some small and unique shops (preferably budget-friendly ones). Have any questions or suggestions for me? Leave them in the comments section below!