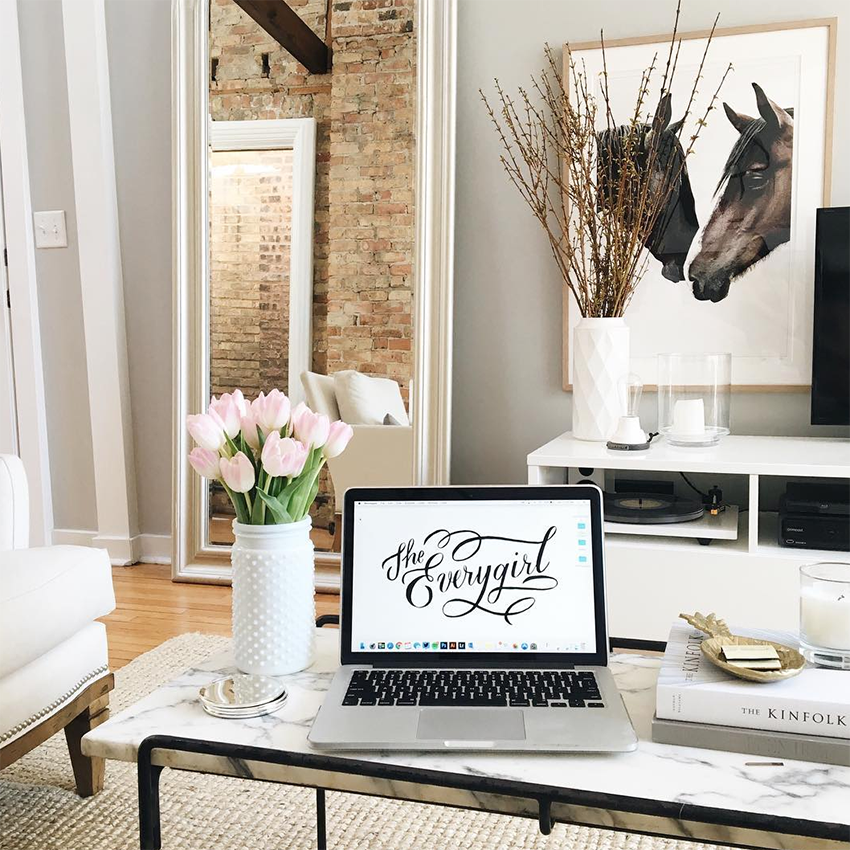 It's the 14th week of 2016 this is my 10th weekly recap post. Not bad, eh? I've actually felt like blogging lately which is a welcome change, but feel a bit stuck, so consider this an open invite to suggest some post topics. My full-time job and a few graphic design projects have kept me pretty busy. I just wrapped a site install, am finishing a site, branding, and business cards for another client, and starting branding and a site for a new client. The lack of time is a whole other issue, but it still feels like winter so here I am, and here's what's been going on this week.
This home tour needs to get shot in the next month and it's down to the finishing touches. If anyone knows of any unique home decor shops, I'd love some new sources!. My new sofa should arrive in the next few weeks, office needs some styling, bedroom feels done, pillows are on the way from found home and made of cloth, and my deck is slowly coming together. I'll share inspiration for that space soon!
I'm on season 3 of Downton and have had a few friends tell me how sad it's going to get. Please tell me Matthew and Mary don't die of cholera or scarlet fever.
Co-working with Jenn and Katie made up for the awful start to my week. More on that in a minute. And each one of them shot a story for The Everygirl at my place.
I made almond milk and it wasn't terrible. Although my first try was terrible, so once I've made another good batch or two, I'll share the recipe.
We're off to Dallas for another Everygirl/Kendall Jackson event this week! Looking forward to warm weather, sunshine, connecting with some favorite Dallas bloggers, touring the new rewardStyle offices, and catching up with and old friend who moved to Dallas a few years ago. But really that sunshine because there was snow on my car this morning and that is just not ok.
My friend Meg of Meg Made is teaching a DIY furniture painting class. Both my dresser and desk were done by Meg Made, and I have another piece coming next week. If you're in Chicago and you have a piece of furniture you're looking to spruce up, sign up and learn from the best!
We're giving Allyson my X100T so she'll be able to shoot higher quality photos for The Everygirl's instagram, which left me on the market for a new camera. Enter the Fuji XT1 and 35mm equivalent lens. Now the real question is whether or not I'll feel OK just shooting with this in Europe and leaving my 5D at home. Because I always opt for the 5D and maybe I'll run into some Italian ponies. You know how much I love those horse shots.
A Monday follow-up appointment and scan with my oral surgeon office showed an infection across three teeth. I went through this last year with an infection across four teeth which was a painful and expensive nightmare that ended with me having oral surgery. I've been told there's no explanation, that this is all very rare, and that I'd need a root canal and antibiotics ASAP. So I called my endodontist who happened to have an opening the next day. I was a little nervous, so the doc prescribed valium which had me tripping over things and napping.
And then I found out I'd need a second root canal on a molar, so we scheduled for Friday. Fortunately, I felt 100x better after having the 1st root canal and slowly got over the sticker shock. If I have kids one day, I hope one of them becomes an oral surgeon. Come Friday, the doctor decides to test the tooth before the procedure and tells me I don't need a root canal after all, which would have been nice to know on Tuesday. I'm feeling pretty good and hope the infection is clearing up. Should find out if I'll need surgery in the next week or two.
Off to run some errands, do a little work, and then prep dinner for friends tonight. Have a great weekend!