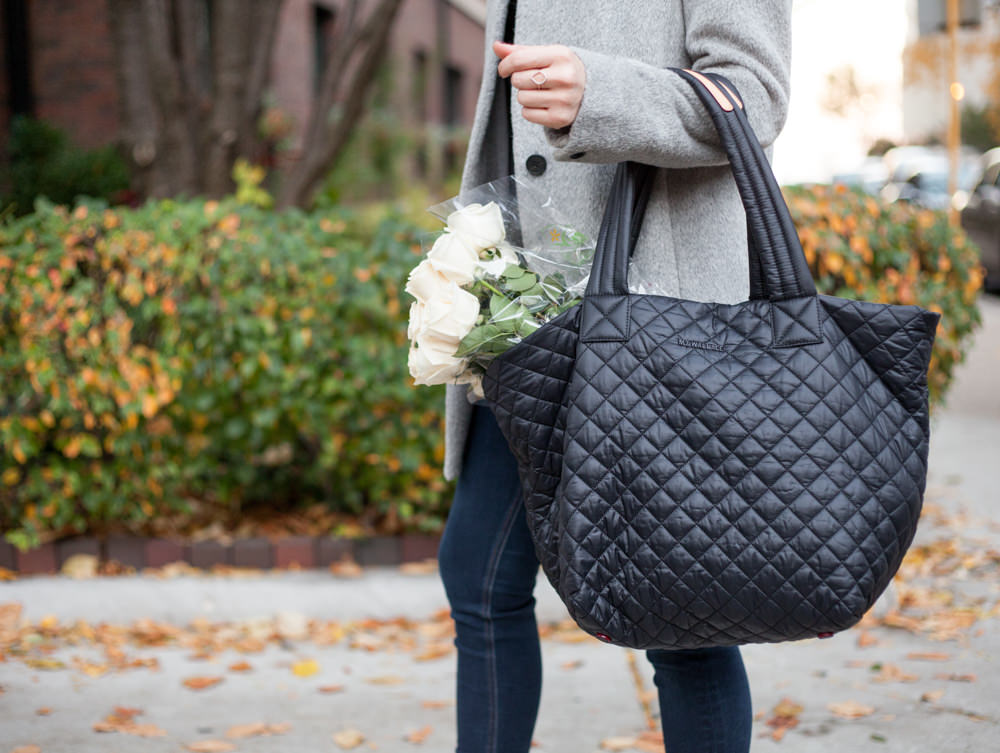 We're off to Indiana for Conor's cousin's wedding today which means two things. First, that I have to deal with the anxiety of leaving two dogs for the first time. And second, that I get to take most of the day off today! Spending a little more time working on The Everygirl's holiday gift guide and running a few errands before leaving town again.
There's something about going to the suburbs or a nearby state in the Midwest that makes me feel like I'm forming roots here. It feels good but a little strange after visiting California because both places feel like home. Can anyone else relate?
Lots of holiday shoots for The Everygirl over the next two weeks before I head to NYC and Denmark for Thanksgiving.
I've got something special coming your way with MZ Wallace next week and am partnering with some brands I really love over the next few months. I'm not very comfortable being photographed but thought I'd give it a try, so my new photographer friend Hallie Duesenberg came by for a shoot last weekend. We enjoyed a November patio brunch, she did such a great job with the photos (really can't wait for you to see more), and I had fun shooting with her which says a lot because I'm normally sort of miserable in front of a camera.
Conor was out of town for a few nights last week giving me some time to myself–something I hadn't had in months. I love living with him but it was nice to do my own thing. I relaxed, watched lots of GoT, brought the pup on my longer errands (stil working on that separation anxiety–will share more about that soon), squeezed in a shoot with Hallie, and quickly snuck out for a workout, manicure, and to grab a few meals because the kitchen won't be done for a few more weeks.
The construction and decorating process has been just that. A process. I'm hardly upset about it but miss my fall crock pot recipes. The hanging of our first piece of art, the ordering of ceiling medallions, and an email informing us that our bed shiped made me excited about finishing this place.
I was asked to keynote on a panel in December and look forward to another public speaking engagement since they make me pretty uncomfortable. Personal growth, right?
Recent events in our country have given me the urge to do more volunteer work. If we aren't happy with the state of things, the least we can do is make a difference. I'd love to hear about any organizations you've volunteered at, donated to, or hope to help someday.
My friend Meg of Meg Made surprised me with this feature on her blog. If you're in the market for a dresser, desk, hutch, table, or basically anything, I can't recommend her enough. Working with Meg was a fantastic experience, so much that we became friends. She's one of the most kind, loving, and sincere people I know. And she painted both my desk and dresser, so she's talented, too.
And a sale alert:
My favorite leggings are on sale
Sephora's beauty insider sale
Friends and Family sale at Williams-Sonoma
Save 25% off everything at J. Crew
Get up to 30% off at Splendid