2016 no 18: Life Lately Italy Edition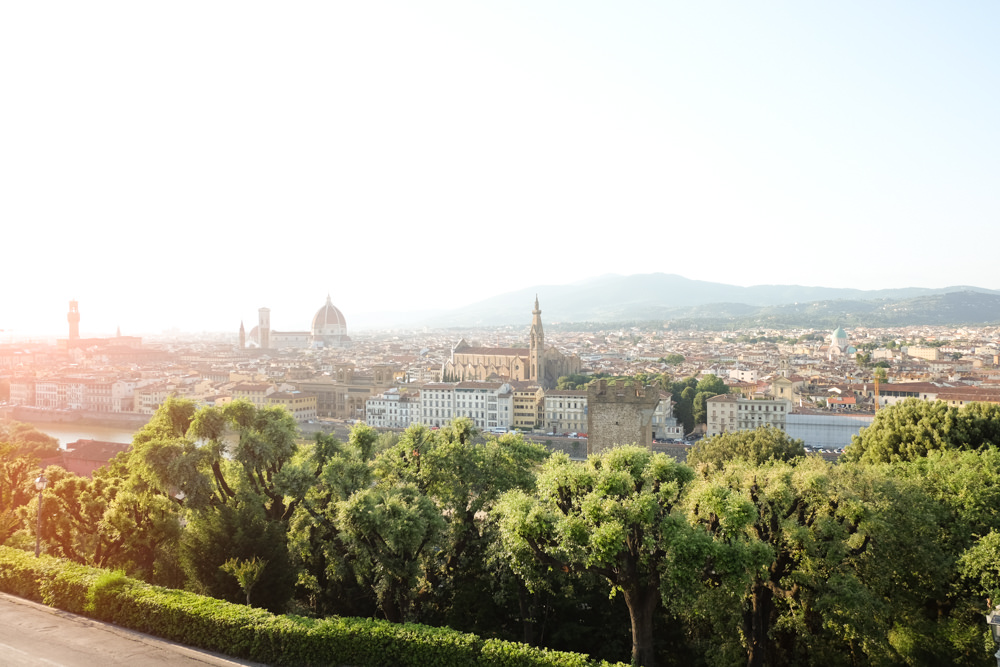 Spending a week in Italy with just one post ready to publish will result in a slight lack of content. I'm at the airport headed to one of my favorite cities and think it's time for an update. Expect an Italy recap soon. Until then, here's a favorite photo and moment from the trip. 2016 no 18: Life Lately, Italy edition.
2016 no 18: Life Lately Italy Edition
This photo was taken at at sunset in Florence, a city I've always dreamed of visiting. Conor wanted to go for a "quick walk" before dinner which turned into walking 3 miles uphill to find this spot. We ended up getting lost in the 90something degree heat and my feet were killing me, but it was so worth it.
The freedom that came with my job was great, but being self-taught, I was limited with where I'd be able to take this business. I was at a crossroads. Go back to school for something I'm not passionate about, start over, or launch an online magazine. A sociology major turned graphic designer turned magazine editor? Come on. I suppose I never really knew the first thing about what I was doing ever. And I've said this a million times before, but I was stuck.
Flash forward to today
Our two newest hires started the week I left for Italy and we move into our new office September 1. There are still things I struggle with, but being here with Jess was a reminder of how far we've both come.
About an hour before the moment I'm about to share with you, I was talking to Jess about how amazing I think it is that she's been traveling through Europe the past few months. I told her how I can't wait to go back or do the same thing one day. She said to put it out there, so I did.
And then it happened
I'm sitting at a cafe in Piazza Del Popolo with my friend and boyfriend. The obelisk across the street was brought over from Egypt in 10 BC. Unreal. The light is perfect, streets are busy, and aperol spritzes are flowing. I sign on to wifi to check in with the team and to figure out an upcoming trip to Amsterdam. This is something that's been pending for a while now, so to have it confirmed in this moment was sort of perfect.
The cheapest flights go in and out of Paris which gives us 2.5 days in one of our favorite cities–a place I've only been to once until today. This will be our best work trip yet and just 6 weeks later we'll travel to Sonoma.
I didn't grow up traveling and avoided planes for a solid 10 years after September 11th, so this year's travel schedule feels completely insane to me.
She asked what I'd tell myself and the only real advice I had was to slow down a little bit. To give myself a break and enjoy each moment. Embrace the ups and the downs, too–they'll help you appreciate when things are good. I'm almost glad I didn't travel very much until this year. I truly appreciate each moment and experience, and have made a promise to myself to never take being able to see the world for granted.
It's not perfect
I'd say anxiety and family stuff are the things I struggle with most. And at the end of the day, those two things can really bring you down if you let them. I'm doing my best to really appreciate the good and to be grateful for how far I've come. So whatever you're going through right now, know it's not permanent. If you're stuck in a bad job, relationship, or city you don't love, take a step toward change. It won't happen overnight, but even a small shift will get you closer to where you're meant to end up.
Today, we're leaving Rome for PARIS, so until next time…au revoir!
Have any questions? Thoughts? Leave them in the comments section below!