In the kitchen / Mini pumpkin cheesecake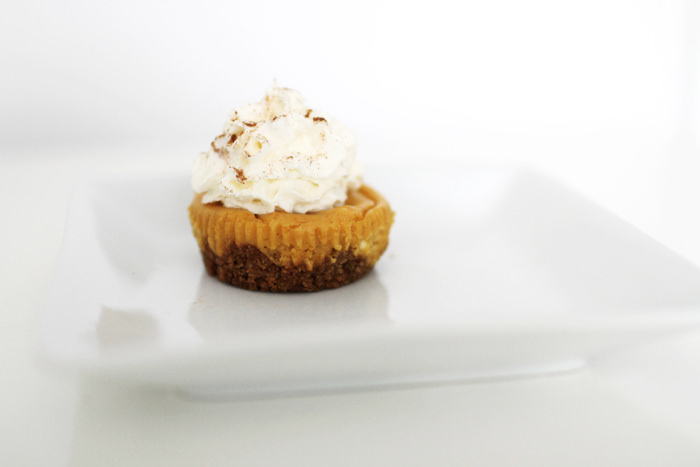 Hope you all had a wonderful Thanksgiving! I had a quiet little Thanksgiving with the boyfriend here in Chicago. I cooked, baked & bought a few pre-made dishes since I was feeling a bit uninspired.  I don't eat turkey so Thanksgiving is a day of carbs for me. I am paying for that now — trust me.
I skipped making a home made apple pie but did make [low fat] mini pumpkin cheesecakes.
Ingredients:
8 oz lowfat or fat free cream cheese
1/2 tbsp lemon juice
1/2 cup organic sugar
1 egg
1/2 tbsp vanilla extract
9 graham cracker sheets [crushed]
1/2 can organic pumpkin
pumpkin pie spice to taste
whipped cream
1 stick earth balance [or butter] melted
12 muffin liners
Directions:
line muffin tin wells with liners
mix crushed graham cracker and melted earth balance in bowl to form pie crust
add crust to muffin tin wells and press down/flatten to form crust
mix lemon juice, cream cheese, sugar, egg, pumpkin, vanilla and pumpkin pie spice in the bowl of a mixer
pour mix over graham cracker crust
bake at 350 for ~ 25 min
cool for at least 30 min + refrigerate
top with whipped cream and a dash of pumpkin pie spice
enjoy!
Recipe makes 12 mini cheesecakes.
How was your Thanksgiving? Did you do any baking?