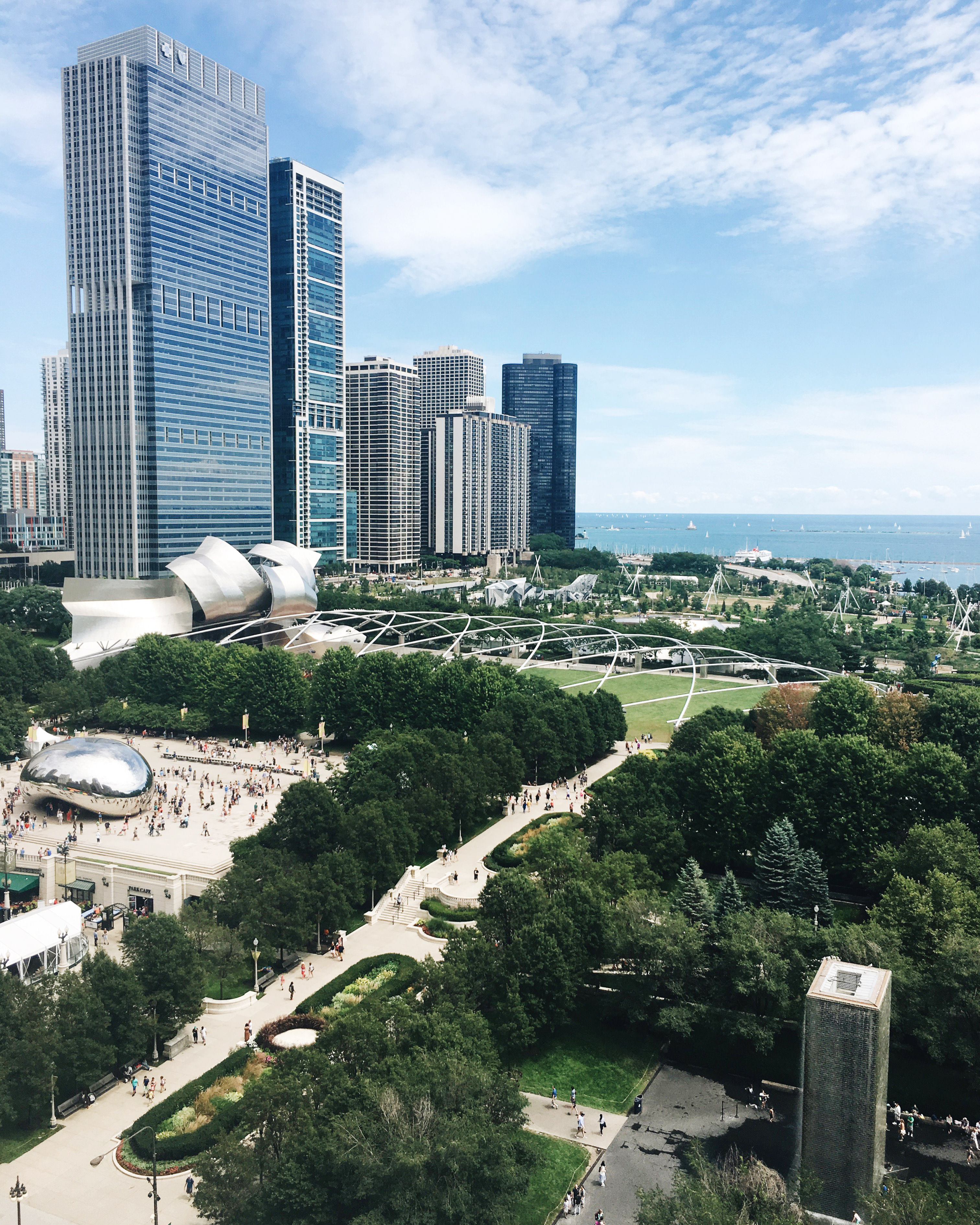 I have the past 8 months documented on my blog, but the story of how I made it to Chicago is a good one. One that I never want to forget. One for the books. Or in this case, the blog.
It was 8 months ago today that I got my first glimpse of my new hometown. But the story starts long before that. I was in my 20s as I am now, but was leading a very different life than the one I lead today. Aside from building a business, I wasn't really enjoying my life the way I should.
In April 2007 I decided that I would start a blog. Blogging was not nearly as trendy as it is today, and blog designers for the most part did not exist. I decided to pick up a copy of PSE and play around with some designers for my banner. Months later, people were asking for help. Years later, I have designed over 900 blogs & have worked with hundreds of people around the world. There are some that I have become friends with & many that have touched my life in some way or another.
All of the people involved in my journey to Chicago started as clients & became friends who would invite me into their lives via their blogs, and eventually, into their homes. I never thought I would actually take them up on their invitations because a. I had a crippling fear of flying and b. traveling around the country visiting blog friends isn't really something people do. I knew that if I took this trip I would find a wonderful city with affordable housing and I would begin a new life. That either sounds insane or like the most rational thing I have ever done. Since I find myself sitting in my new apartment in Chicago as I write this, I am going to go with the latter.
The planning began. When it comes to trips I am not much of a planner. I like to explore and see where I end up. But because I would be flying, taking road trips, and state hopping, I would need to execute a plan. I remembered Kelsey posting about a trip to Chicago, and decided that we should take a road trip there. I had this dream of scoring Oprah tickets & seeing the bean. If you've been following my story, you know that I made it to the front row of Harpo studios, but I'll get to that later. I planned on visiting Amy in Nashville. Long time blog friend turned real life friend Jill flew in for the trip. I would have breakfast with Jess & Angie and another breakfast with Adrienne. Tippa would drive to Nashville from Memphis to visit, and would road trip with me back to Memphis where I would take a flight to Indy. Faith would pick me up at the airport and spend a few hours with me until Kelsey could pick me up and take me to her adorable little house.
Over the course of 11 days, I would fly from LA to Nashville, Memphis to South Carolina, South Carolina to Indianapolis, drive from Indianapolis to Chicago & back, and then fly from Indianapolis to Los Angeles. I had no idea that these 11 days would change my life forever. I will never forget Jill telling me how this trip would open my heart. While she was right, it did so much more than that. It opened my eyes. I booked my flights, got my prescription for anti anxiety medicine, bought a coat, & I was off.
Nashville was amazing. Everyone was so nice, housing is inexpensive, and the scenery was beautiful. Then I flew into Indy, and on November 19th, 2009 drove to Chicago with Kelsey. I remember the first thing I said. "This is amazing, but I could never live here." It was "too city" for me. I will never forget the moment when I realized that I needed to live in Chicago. On day 2 we took the train to Lincoln Park. We got off the train and that was it.
On my last day in Indiana, I joined Kelsey at her church. Her pastor asked everyone to close their eyes and raise their hand if they felt they were being called to do something. I raised my hand. He said we needed to have faith and take that next step. He advised us to trust God, and let go. I know that so much more was said, but it is all a blur. When the service ended, I broke down. It was one of the most memorable moments of my life. It was the moment I realized that I would need to move to Chicago. This city was just supposed to be a fun little destination during my 11 day trip, and ended up becoming so much more than that.
The trip ended and I returned to LA. My car lease was up in January 2010, and since I would not need a car in Chicago, I decided that I would sublease an apartment for a month once my lease was up. This is one of those things that sounds crazy but makes perfect sense. People would ask why I chose to leave LA and come to Chicago in February, which is one of the coldest months of the year. I would reply with "my car lease was up."
On February 1, 2010 I moved to Chicago to sublease an apartment. I brought some clothes & shipped a few boxes with a plan to further explore the city. My mom flew out with me to help me get settled the first week as she did with this move. I can honestly say that had my mom not been here for all this, that I would still be in LA. I will never forget her hand in this move. She was pretty amazing. Now this is where things get a little crazy. I was initially going to sublease my sister's now ex-best friend's apartment, but after she stole a few hundred dollars in clothes from me and blamed it on dead people I knew I needed to find a new place to live before my mom left, or fly back to LA. If you're new to my blog, this is exactly how it sounds. A few weeks later all of my things were returned to me.
I had emailed blog friend turned real life friend Kate and asked her if she knew any Chicago bloggers. She sent a link to Michele's blog, so I emailed Michele to say hi. When all this craziness went down I contacted Michele to ask if she knew anyone that might be subleasing her apartment. She immediately updated her Facebook status letting everyone know that a friend needed a place for the month. That same day she got a message from a girl who had a place in Chicago, just around the corner from where I was staying. I got in touch with this girl, signed a one month lease, and moved in that day.
I spent Feb 1 – March 10, 2010 in Chicago and loved every moment except for the whole dead people taking my stuff deal. That kind of sucked. But other than that, Chicago was great. I was not homesick & did not miss my life in LA. I was freezing, but happy. The snow was magical, the city was alive, and for the first time in my life, I was alive. It was a pretty incredible experience.
Then I got Oprah tickets. Some people try for years, but I got those tickets after living here for a matter of weeks.I found an apartment I didn't really love and put down a deposit. Something didn't feel right, and I was worried that something was me picking up and moving to Chicago. While I know now that this was the best thing for me, the idea of relocating my entire life was terrifying. I did not end up taking the apartment and the entire move was put to a stop. It worked out for the best because the apartment I have now is so much better than the one I almost ended up with.
March 10th was my last day in Chicago, and was a perfect day. It was in the 50s which would normally be a cold day for this California girl, but after living in Chicago for 5 weeks I was excited for 50. By the way, the anticipation of 50 degrees is a very exciting thing. I love the idea of looking forward to changes in the seasons. It is a great feeling. I put on my cardy uggs, leggings, a leather jacket & a scarf, and walked around the city for hours. I just wanted to take it in.
All I could talk about or think about was whether or not I should move. I woke up anxious every single morning, and while I knew the move would be exciting, I was terrified. On June 9th, I returned to Chicago. This time, I stayed with a friend. I spent most of my trip hung over. Good times. The entire trip was a fun & crazy blur, but it was exactly what I needed. I got to tour the apartment that I found online and loved it. I was in a great mood and completely skipped over my plan to measure the unit and take lots of photos. I went to my first Cubs game, saw Vince Vaughn at a street fair, and fulfilled a dream of walking around the city in flip fops and a maxi dress. It was perfect. Hot, but perfect.
June 13th was the last time I flew in to LA as a resident of Los Angeles. I made my plans, panicked, couldn't sleep, stressed out, dreamed of my new life, shed lots of tears, ordered furniture, and sat back as everything fell in to place. I cut off all my hair, walked away from an 8 year relationship, and left the only life I ever knew. It was the hardest thing I have ever done, but I would not trade the experience for anything. I could barely find the strength to book a flight to return to Chicago. The ticket would make it real, and I simply couldn't handle it. Then I received a deposit from Anne. I knew who she was and decided to email her. I said hi, told her I loved her blog, and shared my story with her. Not something I do with all my clients, but in this case it felt right. Her reply was exactly what I needed to hear. It was after I received her email that I was ready to book my flight to Chicago.
August 1, 2010 marked the end of my journey to Chicago, and the beginning of the rest of my life. It has only been 19 days but everything has fallen in to place. I love my new city, new apartment, and the friends I've made. The pup loves it, too. I am happy. He is happy. And dare I say that I love my life. It took years to get here, but I made it. I am home.